Island Adventure: Exploring the Beauty of Crete on Three Iconic Italian Motorcycles
I had the incredible opportunity to explore the breathtaking island of Crete, Greece, on three iconic Italian motorcycles: the Ducati Desert X, Moto Guzzi V85TT, and Aprilia Tuareg. The winding roads of Crete's mountainous regions provided a perfect setting to test these adventure bikes to their limits, and the beauty of the island's landscapes left me in awe at every turn.
Starting from the coastal village of Hora Sfakion, located on the southern coast of Crete, I set out on my adventure on the Ducati Desert X. This adventure bike proved to be the perfect choice for exploring the rugged terrain of Crete, particularly the Kotsifou Gorge. Riding through this narrow canyon on the Ducati Desert X was an exhilarating experience, as I navigated through the rocky terrain and steep inclines with ease, all while taking in the breathtaking views of the gorge from the bike.
Continuing my journey through Crete, I switched to the Moto Guzzi V85TT, a versatile adventure bike that proved to be the perfect choice for exploring the winding mountain roads of Crete. Riding through the villages of Aradena and Plaka on the V85TT, I was able to enjoy the scenic views of Crete's lush green mountains and crystal-clear blue waters. The bike's comfortable seating position and windscreen made it easy to soak in the beauty of the island's landscapes, while its nimble handling and responsive brakes allowed me to easily navigate through the sharp turns and steep inclines of the mountain roads.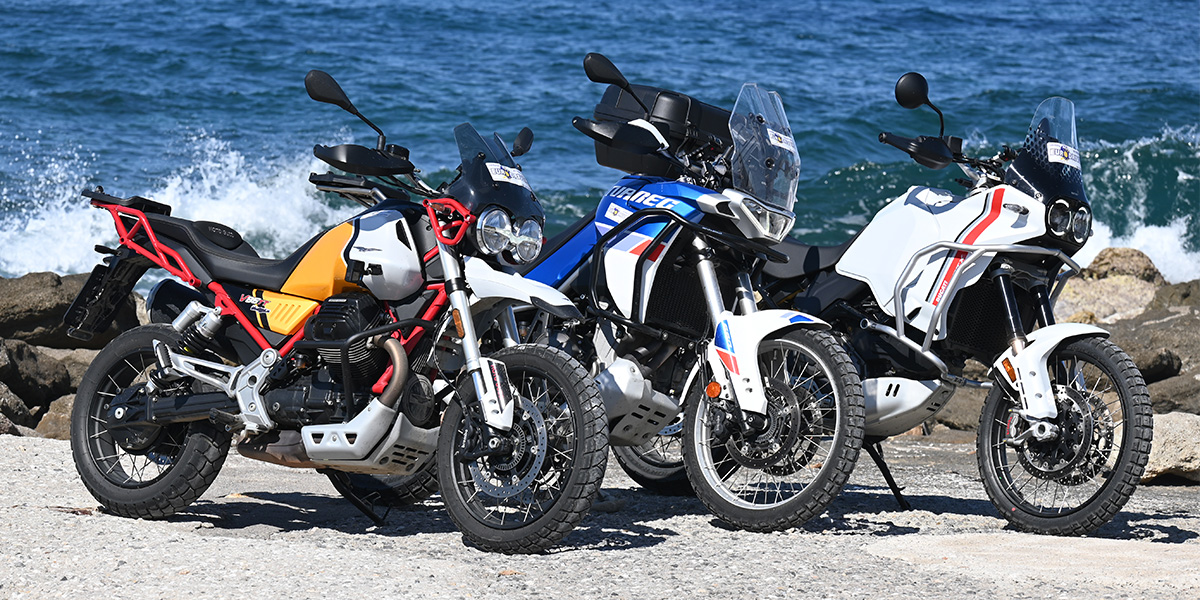 Finally, I took out the Aprilia Tuareg, a sleek and sporty adventure bike that offered an exciting riding experience. The bike's powerful engine and agile handling made it a great choice for tackling the challenging terrain of Crete's mountainous regions. The Tuareg's advanced electronics and suspension system allowed me to easily adjust to changing road conditions, while its comfortable seat and ergonomic controls made for a comfortable ride during long distances. Riding through the mountainous regions of Crete on the Tuareg was a truly unforgettable experience, as I was able to explore some of the most beautiful and remote areas of the island.
Exploring the stunning landscapes of Crete on these three Italian adventure bikes was a true highlight of my holiday. Each bike provided a unique and unforgettable riding experience, from the rugged terrain of Kotsifou Gorge to the winding mountain roads of Aradena and Plaka. The beauty of Crete's landscapes left me in awe, and I cannot wait to return to this beautiful island again to continue exploring its hidden gems.

Bellow you will find the route starting from Herklion and returning to Heraklion.